Yo, check out books we use at school which we think have great links to mindfulness & meditation.
Two monsters -David McKee
Two monsters live on either side of a mountain. Sometimes they talk through the hole in the mountain, but they never see each other. One evening, they get into a silly argument about whether day is departing or night is arriving, which escalates into a rock throwing fight, which eventually destroys the mountain, and enables the monsters to see each other's point of view and live together as friends.
Let's Do Nothing - Tony Fucile
Frankie and Sam have played every sport and board game invented, baked and ate batches of biscuits, painted zillions of pictures... What's left to do? Nothing! But can Frankie and Sam do nothing?! Can they act like stone statues in the park? (Without moving to shoo off pigeons.) Can they imitate two giant oak trees? (And ignore Sam's dog, who's taking a pee...) Can they simply hold their breath and not blink an eye



Zen Ties - Jon Muth




When Still water the panda encourages Koo, Addy, Michael, and Karl to help a grouchy neighbour, their efforts are rewarded in unexpected ways.




The Giving Tree - Shel Siverstein




Every day the boy would come to the tree to eat her apples, swing from her branches, or slide down her trunk ... and the tree was happy. But as the boy grew older he began to want more from the tree, and the tree gave and gave and gave.
A small child awakes to find blackened leaves falling from her bedroom ceiling, threatening to overwhelm her. 'Sometimes you wake up with nothing to look forward to...' As she wanders around a world that is complex, puzzling and alienating, she is overtaken by a myriad of feelings.

Just as it seems all hope is lost, the girl returns to her bedroom to find that a tiny red seedling has grown to fill the room with warm light.



The Lost Thing - Shaun Tan
The Lost Things is a humorous story about a boy who discovers a bizarre-looking creature whilst out collecting bottle-tops at the beach. Having guessed that it is lost, he tries to find out who owns it or where it belongs, but the problem is met with indifference by everyone else, who barely notice it's presence. Each is unhelpful in their own way; strangers, friends, parents all unwilling to entertain this uninvited interruption to day-to-day life. In spite of his better judgement, the boy feels sorry for this hapless creature, and attempts to find out where it belongs.
Elmer the colourful patchwork elephant who teaches us that it is OK to be different!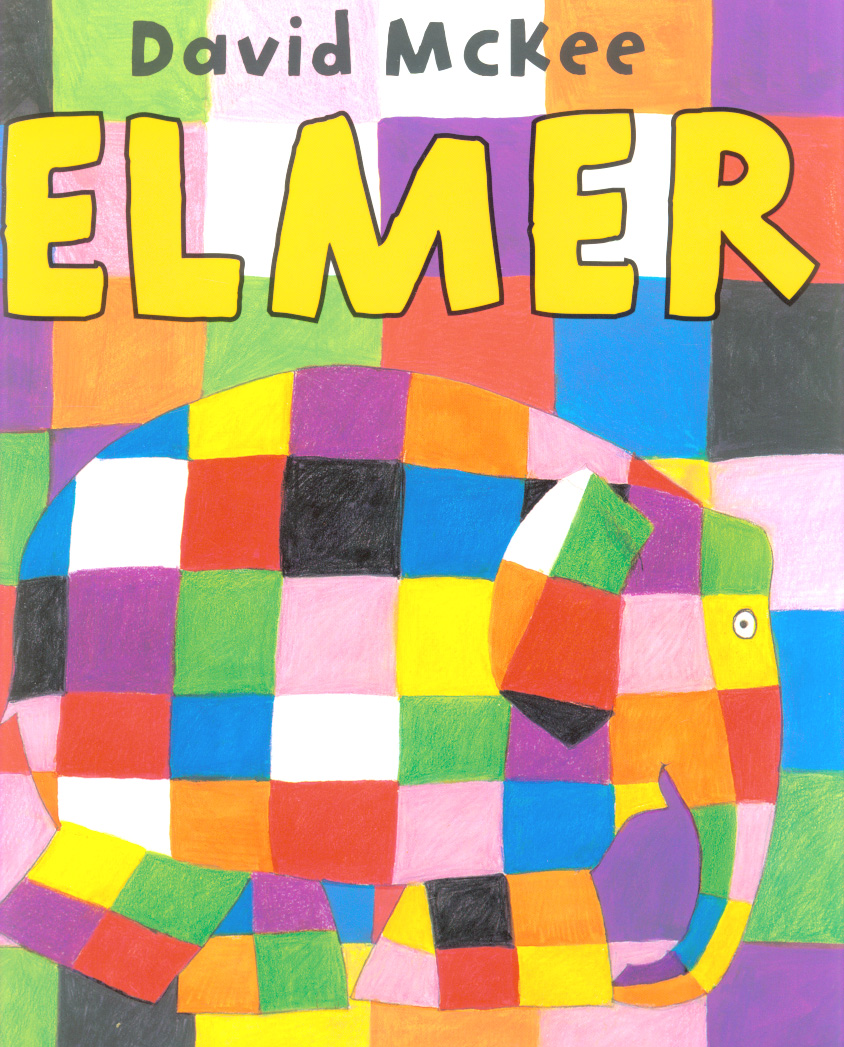 Little Stone Buddha - K.T.Hao

A little stone Buddha comes to life, and protects others from harm. He protects these two little foxes from arrows, though to the hunters it just looks like the arrows stop. It is easy to adapt the lesson to various lessons in Buddhism. The book ends with the little foxes sitting still as statues next to the Buddha. People left offerings for the foxes as well as the Buddha.

The Coconut Monk - Thich Nhat Hanh

The Coconut Monk and his two companions a cat and a mouse tries to go to the president of Viet Nam and ask him to stop the war. But soldiers throw him in prison and his cat and mouse friends come with him. Though there is little food in prison, all three share what they have, and the cat does not eat the mouse. Eventually people find out about the Coconut Monk's imprisonment and they visit him and write letters and the guards of the prison finally release him. His question to the President remains, "If a cat and a mouse can live together in peace, don't you think we humans can too?

The Beckoning Cat - Size Nishizuka

This charming retelling of a Japanese folktale explains the story of young Yohei, a poor, hardworking door-to-door fish monger who finds his life transformed after a muddy white cat comes begging. Yohei shares his meager dinner with the feline visitor, and the next day he is astonished when customers begin to come straight to him. The reason, he soon discovers, is the grateful white cat, who lures people to Yohei's door with his beckoning paw and stays on to help Yohei create a prosperous fish business.

Say Hello - Jack Foreman

Recommended by the children in Ocean as well as based on the author's childhood experience, Say Hello tells the poignant story of a boy who is left out and all alone, while other children play happily together. Michael Foreman's beautifully spare illustrations perfectly complement the story's underlying message:
"When someone's feeling left out, low, it doesn't take much to say … 'Hello!'"
Something Else - Kathryn Cave
This story is about a ' something else' who is always different from everyone else, it wants so much to be the same but it is always different. Until the day it meets another something else! Something else finds it a bit hard to accept the new creature at first and then it realises that their differences are strengths and they become best friends. They meet a human at the end of the story who really is a something else! This story gently helps children understand how people can be different and shows them a way to accept others who are different to them.
Angry Arthur - ......


Auggie wants to be an ordinary ten-year-old. He does ordinary things - eating ice cream, playing on his Xbox. He
feels
ordinary - inside. But ordinary kids don't make other ordinary kids run away screaming in playgrounds. Ordinary kids aren't stared at wherever they go.
Born with a terrible facial abnormality, Auggie has been home-schooled by his parents his whole life. Now, for the first time, he's being sent to a real school - and he's dreading it. All he wants is to be accepted - but can he convince his new classmates that he's just like them, underneath it all?
We like this book because it has lots and lots of questions in it like, "Why does the world exist?" and, "Is nothing something?"
"The big orange splot."
We like the book because it encourages children to not be afraid to be different. Also not to muck about with paint.
This is an interesting book full of philosophical inquiries. After a few minutes of reading it you will find that your mind is a lot sharper than before, thus creating an experience a little like meditating.
Duck, Death and the Tulip
This book reminds people that no matter what you are, you can be kind and people can be kind to you.That ties in with one of the guidelines of Buddhism.
Mr. Rabbit's new neighbors are otters. OTTERS! But he doesn't know anything about otters. Will they be friends? Will they even get along? Just treat otters the same way you'd like them to treat you, advises Mr. Owl. Follow Mr. Rabbit as he learns how to be a good friend and neighbor by simply following the Golden Rule.
This book is fun to read because it teaches children how to be kind and to remember your manners
AN AWESOME BOOK OF THANKS!
This book tells you to say thank you for everything even bad things.
Frog and Toad together-Arnold Lobel
Frog and Toad spend their days together planting seeds, climbing mountains, eating far too much - and generally having fun!
Stick man - Julia Donaldson & Axel Scheffler
Stick man is a funny story about a man made out of a stick. One day he falls out of his family tree, and has all sorts of adventures!
He is grabbed, soaked, weaved, used as a flag and all sorts of things! Will Stick man ever get home to his family tree?
WHAT! cried Granny
This is a very very very
hilarious
book because poor old granny makes this boy a bed,pillow,blanket, and a ginormous ttteeeedddyyy bear